Electronic producer Anish Sood opens up about Anyasa, his new avatar that incorporates Indian classical sounds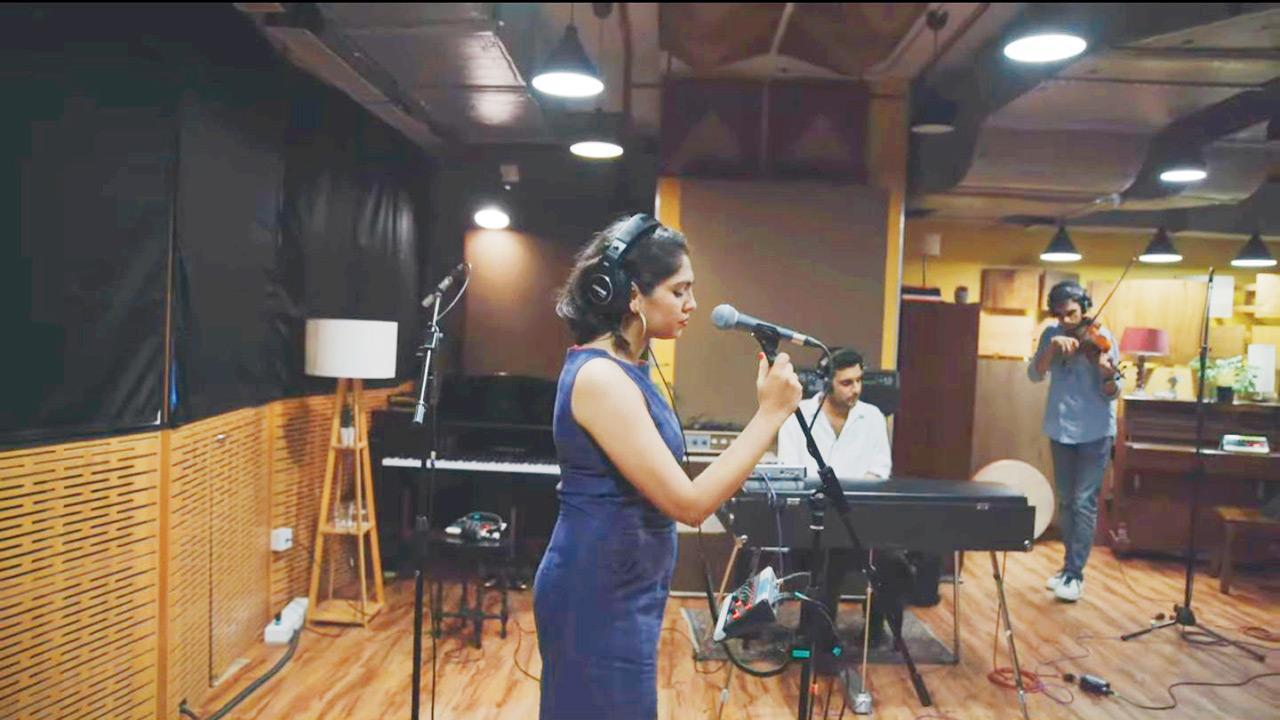 (From left) Isheeta Chakravarty, Anish Sood and Ajay Jayanthi record the track, Rasiya
It was around two months after the first lockdown last year. Anish Sood, an electronic music producer born and brought up in Goa —   who back then went by the same artiste name —   opened up his system at home in the sunshine state. He then proceeded to delete all the files in it with synth compositions he'd been storing till then. It might seem like a dramatic move for a musician to make. But for Sood, that moment had been building up for about three years. Subconsciously, he'd been laying the ground for Anyasa, his new musical moniker, one that blossomed during the pandemic. Sood became Anyasa; Anish Sood, the artiste name, became a closed chapter.
Anyasa sees Sood incorporating Indian classical music elements into his repertoire for the first time. He is grounded in house and techno music as a synthesizer-composer. But last year, while producing a track called Jigyasa that Indo-US indie act Anhad and Tanner was making, it struck a chord. Sood heard Isheeta Chakrvarty sing Indian classical vocals on what was otherwise a wholly western track, and realised that he could take a leaf out of that book. Subconsciously, he'd been looking for a change from 'Anish Sood'. The new label he had signed to, Anjunadeep, also gave him a nudge in the same direction and Jigyasa acted as a catalyst, Anyasa tells us.
ADVERTISEMENT

Anyasa aka Anish Sood
Anyasa thus started corresponding with Chakrvarty, who's Mumbai-based, sending her a couple of demos. He says that she liked what she heard, and he told her to free-style over it with her vocals. "Back then, it was meant to be a conceptual EP," the artiste tells us. But life clearly had different plans, since that correspondence laid the foundations for Gaya, Anyasa's debut EP, a product that consciously blends Indian elements into the sonic spectrum of western electronica.
Anyasa says, "I've actually had minimal experience [in Indian classical] and that is something which started changing towards the latter half of last year. I started reading up on it and began understanding ragas better." He adds that for Indian electronic artistes to break out globally, they need to bring something authentic to the table. "Afro-house is the best example of that," he says, referring to how the beats of traditional African vocals and instruments have added a distinctive layer to contemporary house music, the sound acting as a sort of soft power that shines a light on the 'Dark Continent'.
The plan now is to develop a DJ set for nightclub gigs — whenever that scenario will again be allowed — and, apart from that, build a large-scale ensemble with 10 other musicians to perform at a festival stage. This stage will have Indian classical instruments and vocalists, western instruments like the violin, maybe even Rajasthani folk instruments like the sarangi. Who knows? There's only one thing he knows for sure, the musician says. The bass line from his synthesizer will hold the compositions together. This will be music where the East meets the West. "I can't say that I am the first person to do it, because I am not," Anyasa says, explaining how maverick acid-house composer Charanjit Singh was way ahead of his time over 20 years ago.
But the fact is that here is a musician who has gone through a musical transformation during the pandemic, to the extent where we can say, "Anish Sood is dead. Long live Anyasa."
"Exciting news! Mid-day is now on WhatsApp Channels
Subscribe today by clicking the link and stay updated with the latest news!"
Click here!