Transgender Awareness Month is a time to educate ourselves about the lives and experiences of trans persons. Mid-Day.com spoke to trans and gender queer individuals to understand how they navigate dating, stigma, self-doubt, and more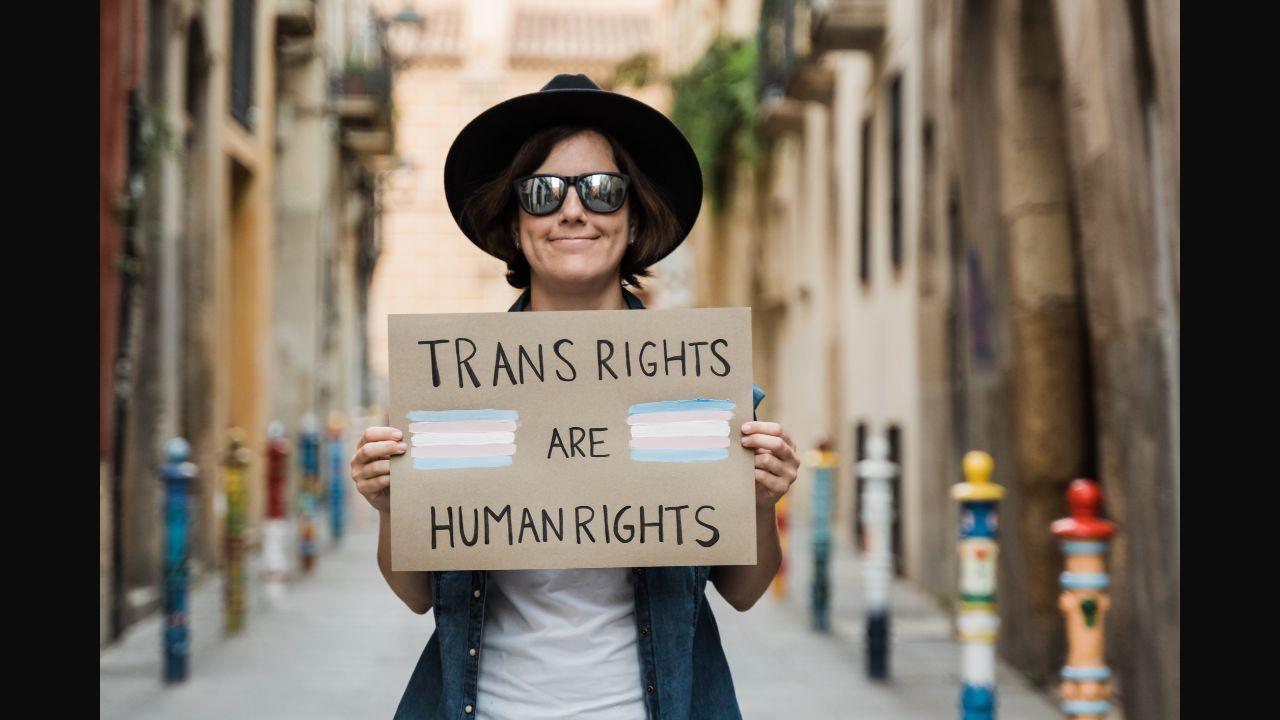 A trans woman protesting for trans rights. Pic/iStock
November is observed as Transgender Awareness Month across the globe to spread awareness about and celebrate the trans community—one that is complex and diverse, and exists well beyond stereotypes.
"Transgender means a person who has a gender identity different from their biological sex or what they had been assigned at birth. The trans umbrella encompasses all other gender identities except for cis-gender identity. Gender is a social construct and each individual has a unique way of understanding theirs. Multiple gender identities exist, and several individuals' experience of gender is more fluid and not as rigid," explains Pranay Javeri, mental health team in-charge, All India Queer Association.
There is an acute lack of awareness regarding issues concerning the trans community which leads to discrimination. It has been widely observed that even within the LGBTQIA+ community, trans folk struggle to get acceptance, validation, and respect from cis-gender queer people. "As a cis-gender individual my perspective is limited, but what I have observed through my research and work is that trans people have to fight for validation and basic human rights. Their gender identity is invalidated by society, law, and government policies repeatedly. They are forced to fit in the gender binary and the cis-normative world which acts as a constant stressor and leaves a long lasting impact. They suffer from gender dysphoria because the society is so rigid and transphobic to accept that not everyone is cisgender," adds Javeri. 
Transgender Awareness Month is a time to educate ourselves and pass over the mic to this underrepresented community to share their stories and experiences. Mid-Day.com spoke to three trans and gender queer individuals to better understand their experiences, hopes, and apprehensions as they navigate dating in India.
Namasya Kaushik (she/her)
27, trans woman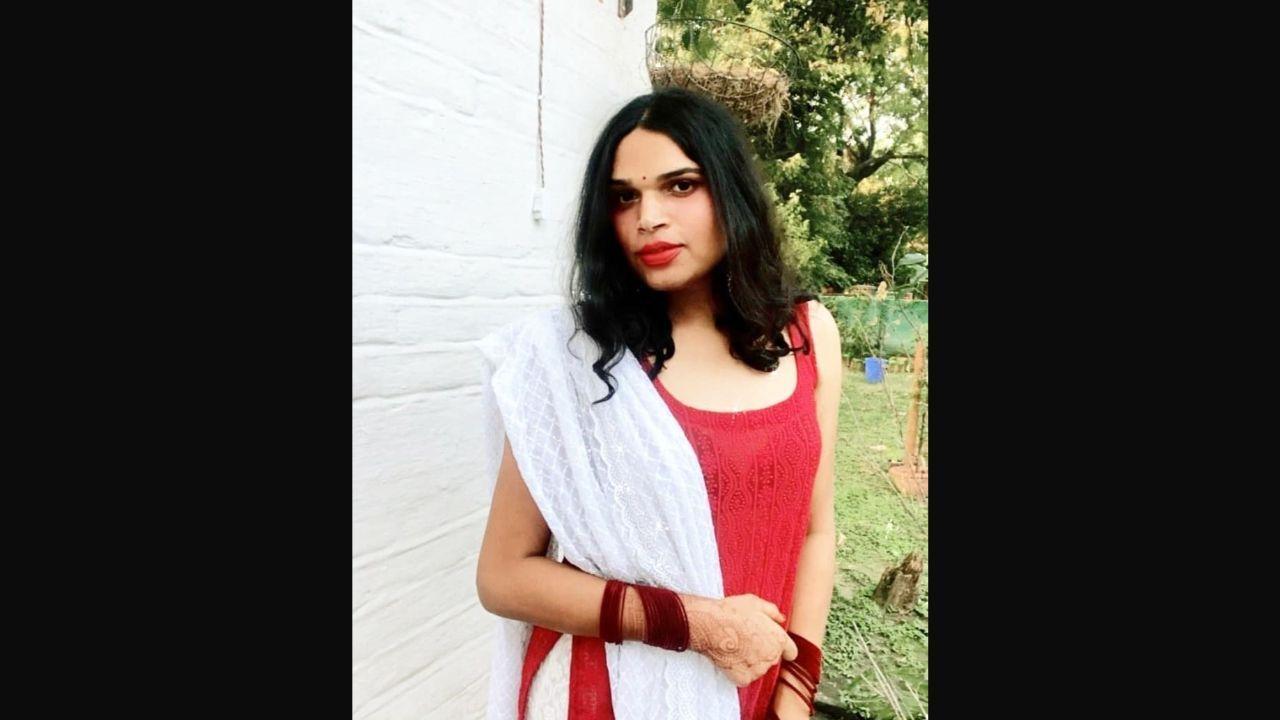 Namasya speaks of the frequent misgendering, hypersexualisation, and harassment she is subjected to as a trans-woman. Pic/Namasya Kaushik
Based in Delhi NCR, Namasya Kaushik is a scheduler analyst who identifies as a transwoman. "The misconception about transgender and trans woman being the same and interchangeable is hurtful. Transgender is the third gender, but trans woman is female. My identity is not of a transgender, it is of a woman."
Talking about how she's perceived by cis-het individuals, Kaushik shares,"99% people perceive me as gay. I want to ask them how can I be gay when I am a woman? I identify as a straight woman and I date straight men, regardless of them being cis-gendered or trans. The worst part is that I have to constantly prove I'm a woman. Who defines what it means to be a woman? Who sets these parameters? It's not a choice, I was born this way. Not many cis-het people understand this, no matter how educated they are. Gender dysmorphia is a serious infliction. People would accuse me of following a trend, but why would I choose a path that hurts me?"
Speaking of her past relationships she adds, "Before transitioning, I was dating a man for 5 years who treated me like a woman. I was initially scared about my voice not being feminine. Every stage of the relationship felt like a challenge, there is a fear of rejection coupled with a fear of identity and a lot of nervousness."
From misgendering to harassment, transpersons are subjected to multiple forms of abuse in their everyday lives. "People are quite comfortable sexualising and abusing me. I haven't had good experiences dating cis-gendered men. Most cis-gendered men who approach me are chasing a fantasy but cannot handle the reality of my identity, and everything that comes with it. I've been judged for my make-up and clothes. The same straight men who are transphobic openly, who won't even make eye contact in public, are the same ones who chase me in clubs. Repeated rejection of my identity in certain situations is a disorienting experience."
Hyper-sexualisation of trans women is a common occurrence and has an overarching impact on the relationships they experience. "Cis-het men hyper-sexualise me. If I'm talking to you, that doesn't mean I'm available to you. People are so comfortable asking me how I have sex. Would they ask their sisters or female friends the same intrusive questions? One random guy told me you don't look like a trans woman, I asked him how should a trans woman look? I'm 27, I can't have a teen relationship. People don't want to engage in serious relationships with me because of my gender identity."
Namasya refers to the goddess who is worshipped, remembered, and destroyed. It's been a long struggle but she takes pride in her identity and rises above everyday struggles. "I feel I am blessed to be born as a trans woman because not everyone is privileged to be born like that. Things will not change right now or in the coming 100 years, but having acceptance and more opportunities for women like us is the need of the hour. Life is too short to hate anyone, and we are all the same."

Rajan Negi, (they/them)
21, gender non-confirming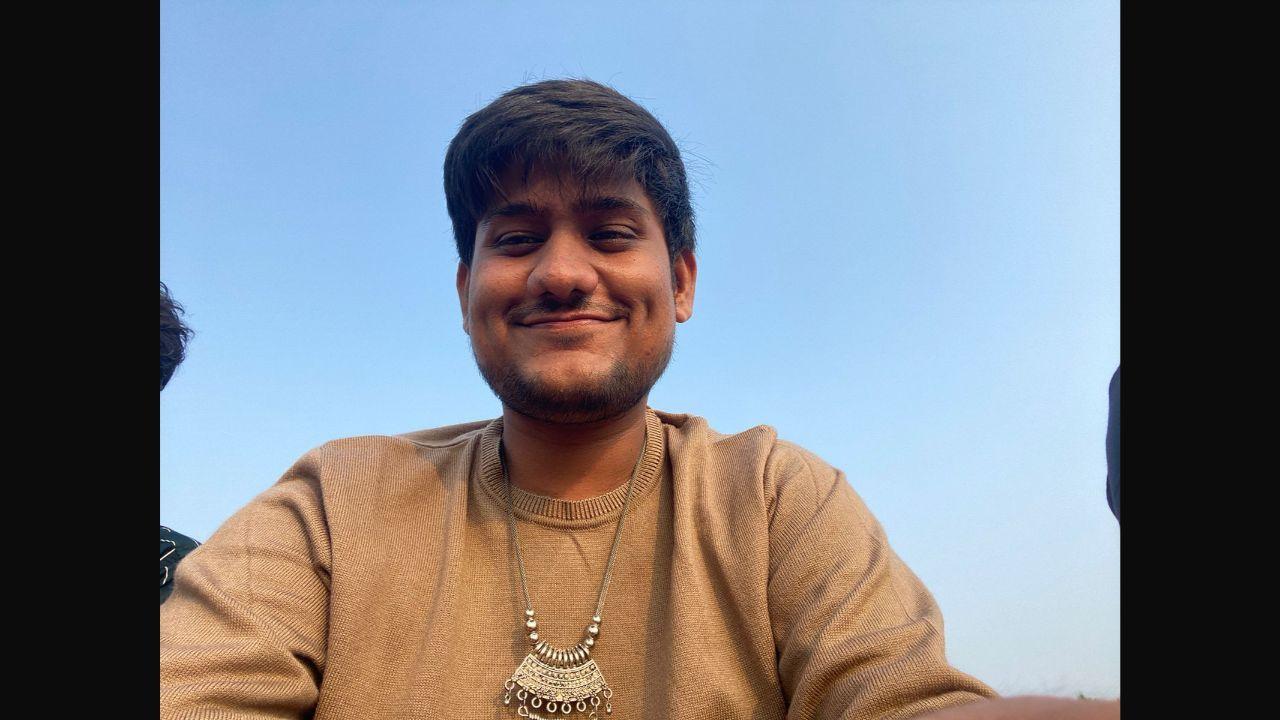 Rajan started exploring his gender identity beyond the binary during the lockdown. Pic/Rajan Negi
A journalism graduate from Bhopal, Rajan identifies as gender non-confirming, which means he doesn't identify with any specific gender. "I was always very effeminate. During my teenage years, I struggled with my femininity and tried changing it by attempting to walk in a manly way or talking in a deeper voice but it never worked for me. I felt like that was not me. During the lockdown I started exploring gender identity and came to know that there are 56 genders which is way beyond the binary. "
Talking about their dating history, Negi shares, "I've been going out with men since I was 16, which was the time when I had my first relationship as well." The apprehensions and fears associated with dating when pursuing relations as a gender queer person is significantly different from cis-het relationships. "I do fear that they might not see the world through the lens which I see which is less of gender more of a person. I like to educate them as much as I can. Cis-het people find it abnormal, which creates certain spaces around me where I feel excluded. They (cis-het individuals) don't have limited avenues to explore and date. They don't have to go through stages of confusion, acceptance, and be fearful of receiving threats of getting killed on a dating app. They also don't have to be scared and hide it from their parents."

In addition to the stigma attached to a queer relationship, there are multiple stressors that can be tough to balance and lead to constant mental distress. "Cis-het couples are privileged in terms of being seen in public. If I kiss a guy in public, the guy or the people around me might not be comfortable. But most times that is not the case with cis-het couples and it puts an added pressure on the relationship as well which others don't have to go through."
Jisha, (she/they)
23, gender fluid
"To me, being gender fluid goes beyond what I'm wearing or my mannerisms. It's like an inside feeling, not physical, if that makes sense. It also means that I'm no longer confined to two genders, but instead I can embrace all of me. You are given two boxes—male and female—you are made to choose between them, meanwhile there is another endless line with a million options. What I realised over time, there are days when I feel 80% masculine and 20% feminine, it's hard to define a feeling, I go with the flow. I realised it earlier this year, but I think it was always there," explains Jisha. Hailing from Trivandrum, Jisha is a student counsellor who came out as gender fluid in 2021.
Talking about her search for a partner, they share, "A couple of years back, I was pursuing cis-het men, even though they disappointed me in terms of conversation and the amount of effort they put in. It started feeling like I wanted to date a man because all of my life I believed I should be dating one—because society had wired me that way. I was confused and started to wonder why I was not dating women."

Voicing their inner struggles, Jisha admits, "Even if I wanted to date cis-het individuals, I questioned myself, was it even okay to stick to cis-het? Am I limiting myself? I always thought if my partner is cis-het, they would be someone who would be an ally.  I would be open to dating cis-het people who are willing to learn more. When I came out to my friend as gender fluid, she didn't understand what it meant, what to do with this information. I helped her understand and now she's okay."
Trying to understand yourself while you're still making sense of the gender and sexuality spectrum can be overwhelming. "I was wondering who I really am, trying to get a clear picture even when the label isn't important. When I familiarised myself with the spectrum, I didn't know how to approach people across the spectrum, it was daunting at first. Then I realised if the connection is there then their gender expression or sexual identity doesn't matter."
Also Read: Documenting queerness: These Indian online archives are filling the gaps in LGBTQIA+ history