As part of the city's monsoon preparedness, 5 teams of the National Disaster Response Force and as many teams from the Navy will be deployed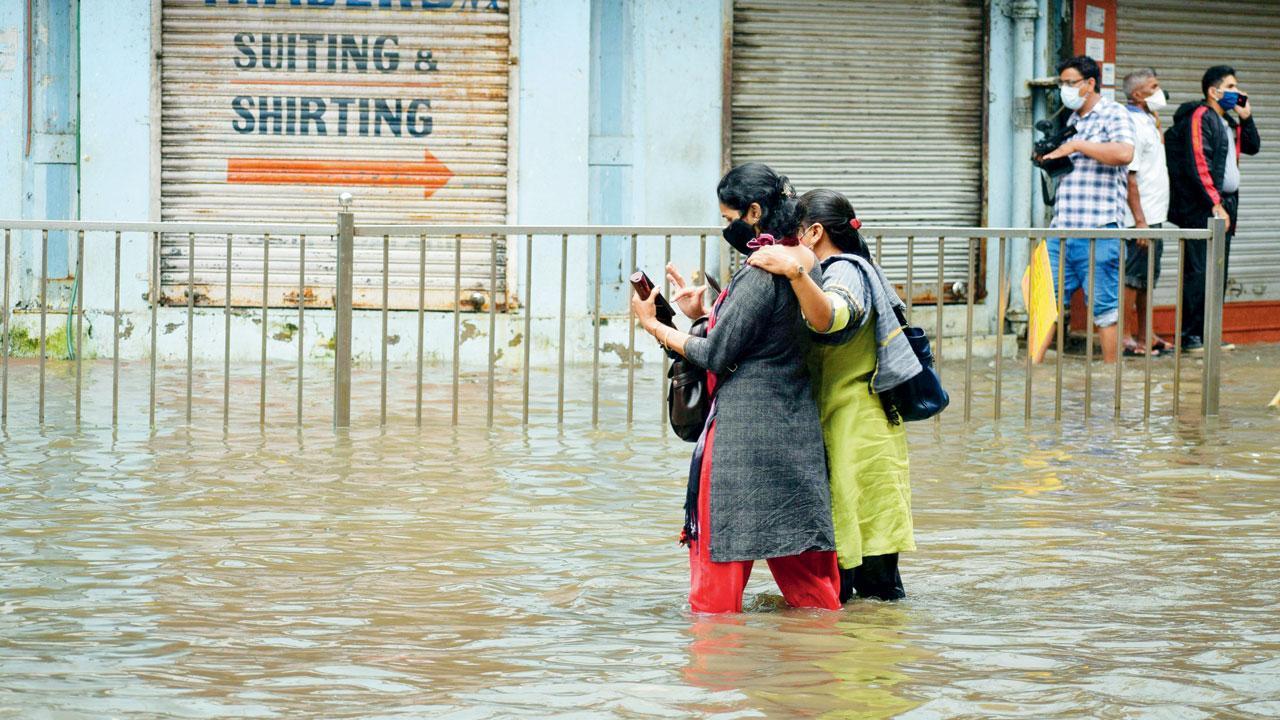 A flooded Hindmata junction in Parel on July 28, 2020. BMC says the spot will be much drier this monsoon. Pic/Ashish Raje
Mumbai won't get flooded even if the city gets rain at the rate of 60 to 70 mm per hour. There are at least 10 to 12 days during each monsoon when daily rainfall crosses 120 to 150 mm with 60 mm per hour for a few hours.
After a review of BMC's pre-monsoon work, Additional Municipal Commissioner P Velarasu said, "We have tackled 73 per cent of flooding spots. If rainfall occurs at the speed of 60 to 70 mm per hour, Mumbai will not get flooded. If it rains more than this, the city will witness waterlogging. But the water will drain out in less time."
As part of the city's monsoon preparedness, 5 teams of the National Disaster Response Force and as many teams from the Navy will be deployed. While 3 NDRF teams will be stationed at Andheri, the other 2 teams will be deployed in various wards. The Navy team will have 500 jawans and officers with 15 divers," said Velrasu.
On desilting, Velrasu said 105 per cent of the work has been completed and 98 per cent of Mithi cleaning is over. Every year, BMC sets a target for desilting and tracks its progress against that figure.
Also read: BMC prepares for monsoon-related illnesses; evening OPDs to start from June 7

'Will fix potholes in 48 hrs'
Velrasu said complaints about potholes can be registered on its website and mobile application 'mypotholetracking'. "After receiving complaints, potholes will be fixed in a maximum of 48 hours," he said.
App for alerts to be ready
Additional Municipal Commissioner Dr Sanjeev Kumar said they are developing a mobile app that will provide info on weather, traffic, and high tide. It will also alert users about heavy rainfall before 3 hours.
Relief at Hindmata
The work on a holding pond at St Xavier's ground to prevent flooding at Hind-mata in Parel is complete. While one tank at Pramod Mahajan Udyan is ready, the work on other holding tanks will start after mon-soon. "Now, these tanks can hold 3 crore litres of rainwater. In the current situation, if 60-70 mm of rain falls per hour, the water can accumulate in these holding ponds which are ready," said Velrasu.